Lincoln Aviator: 360 Degree Camera (If Equipped) / Using the System
Note: The 360 degree camera system turns off when your vehicle is in motion at low speed, except when in reverse (R).
The front and rear cameras have multiple screens which consist of: normal view with 360, normal view, and split view. When in park (P), neutral (N) or drive (D), only the front images display when you press the button. When in reverse (R), only the rear images display.

Press to access the different camera views.

Normal + 360 view: Contains the normal camera view next to a 360 degree camera view.

Normal view: Provides an image of what is directly in front or behind your vehicle.

Split view: Provides an extended view of what is in front or behind your vehicle.

Zooms in on the image.
Keep Out Zone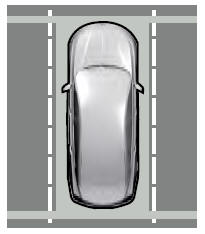 The Keep Out Zone is represented by the yellow dotted lines running parallel to your vehicle. It is designed to give you the indication on the ground of the fully extended outside mirror position.
Categories
WARNING: Position the seatbelt height adjuster so that the seatbelt rests across the middle of your shoulder. Failure to adjust the seatbelt correctly could reduce its effectiveness and increase the risk of injury in a crash.
Adjust the height of the shoulder belt so the belt rests across the middle of your shoulder. Slide the adjuster up to raise the belt. Press the button and slide it down to lower the belt.