Lincoln Aviator: General Information / All-wheel drive system (if equipped)
WARNING: Do not become overconfident in the ability of four-wheel drive vehicles. Although a four-wheel drive vehicle may accelerate better than a two-wheel drive vehicle in low traction situations, it won't stop any faster than two-wheel drive vehicles. Always drive at a safe speed.
A vehicle equipped with all-wheel drive has the ability to use all four wheels to power itself. This increases traction which may enable you to safely drive over terrain and road conditions that a conventional two-wheel drive vehicle cannot. Power is supplied to all four wheels through a transfer case operation and drive mode selection. You should become thoroughly familiar with this information before you operate your vehicle.
Some limited All Wheel Drive (AWD) traction may be provided if a temporary spare is installed on one of the front wheels. If you are in driving conditions where limited All Wheel Drive (AWD) traction needed while a temporary wheel is installed, it is recommended the temporary spare be installed on the front axle.
For all-wheel-drive vehicles, a spare tire of a different size other than the tire provided should never be used. A dissimilar spare tire size; other than the spare tire provided or major dissimilar tire sized between the front and rear axles could cause the all-wheel-drive system to stop functioning and default to rear-wheel drive.
Categories
WARNING: Do not adjust the steering wheel when your vehicle is moving.
Note: Make sure that you are sitting in the correct position.
Unlock the steering column. Adjust the steering wheel to the desired position.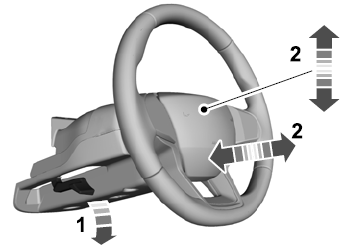 Lock the steering column.