Lincoln Aviator: Parking Aid - Vehicles With: Rear Parking Aid / Description and Operation - Parking Aid - Component Location
Component Location, Parking Aid - Audible without 360 Degree View Camera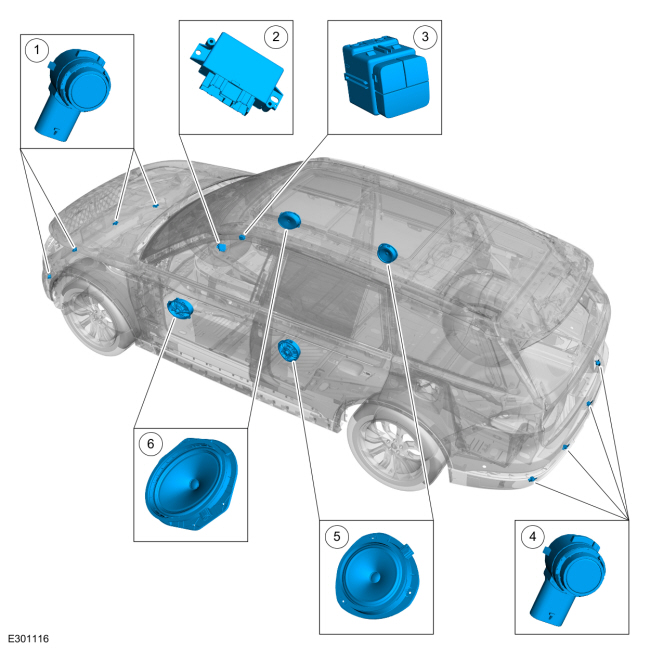 | Item | Description |
| --- | --- |
| 1 | Front parking aid sensors |
| 2 | PAM |
| 3 | Parking aid switch |
| 4 | Rear parking aid sensors |
| 5 | Rear speakers (part of audio system) |
| 6 | Front speakers (part of audio system) |
Component Location, Parking Aid - Audible with 360 Degree View Camera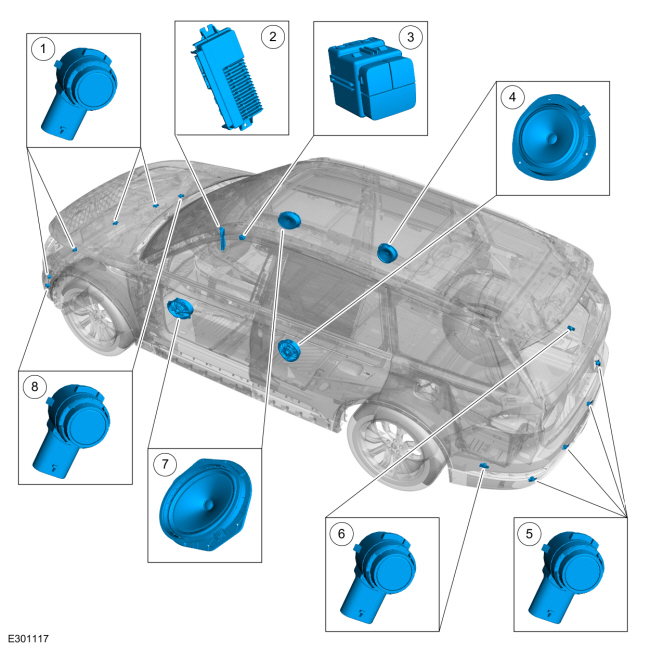 | Item | Description |
| --- | --- |
| 1 | Front parking aid sensors |
| 2 | IPMB |
| 3 | Parking aid switch |
| 4 | Rear speakers (part of audio system) |
| 5 | Rear parking aid sensors |
| 6 | Rear active park assist sensor |
| 7 | Front speakers (part of audio system) |
| 8 | Front active park assist sensor |
Parking Aid Overview Parking Aid - Audible The available parking aid features depend on the vehicle trim level and options selected. The possible audio parking aid configurations are as follows: Front and rear parking aid Front and rear parking aid, plus active park assist and the side sensing system (also known as flank guard) The rear parking aid system sounds a warning tone through the rear audio speakers to alert the driver of stationary objects near the rear bumper when the vehicle is in reverse...
Other information:
WARNING: Never inflate a tire that has been run flat without first removing the tire from the wheel to inspect for damage. A damaged tire can fail during inflation. Failure to follow this instruction may result in serious personal injury...
Inspection WARNING: All seatbelt components must be inspected and corrected as part of any collision repair. Inspect all seatbelt components as prescribed by Seatbelt Procedure After a Collision found in Section 501-20A General Procedures of this manual...