Lincoln Aviator: Instrumentation and Warning Systems / Parking Aid - Vehicles With: Rear Parking Aid
Removal NOTE: Removal steps in this procedure may contain installation details. Remove the front bumper cover. Refer to: Front Bumper Cover (501-19 Bumpers, Removal and Installation)...
Other information:
Special Tool(s) / General Equipment Resistance Spotwelding Equipment Scraper for Straight Edges Grinder Hot Air Gun Knife Spot Weld Drill Bit Locking Pliers Materials Name Specification Metal Bonding AdhesiveTA-1, TA-1-B, 3M™ 08115, LORD Fusor® 108B - Seam SealerTA-2-B, 3M™ 08308, LORD Fusor® 803DTM - Flexible Foam Repair3M™ 08463, LORD Fusor® 121 - Removal WARNING: Electric vehicles damaged by a crash may have compromised high voltage safety systems and present a potential high voltage electrical shock hazard...
System Operation System Diagram Item Description 1 Fuel tank filler pipe 2 Fuel delivery module (FDM) 3 Fuel level sensor (FLS) 4 Fuel tank 5 Vapor recirculation line 6 Fuel tank pressure (FTP) sensor and tube 7 EVAP vapor blocking valve (VBV) 8 EVAP carbon canister 9 EVAP canister valve 10 EVAP canister inlet filter 11 Fresh air vent tube 12 Fuel bundle 13 EVAP purge valve (EPV) and tube 14 Intake manifold Evaporative Emission (EVAP) Systems The EVAP system prevents fuel vapor build up in the sealed fuel tank...
Categories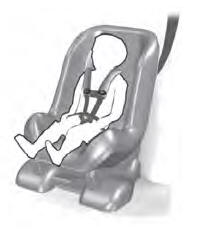 Use a child restraint (sometimes called an infant carrier, convertible seat, or toddler seat) for infants, toddlers and children weighing 40 lb (18 kg) or less (generally four-years-old or younger).
Using Lap and Shoulder Belts
WARNING: Do not place a rearward facing child restraint in front of an active airbag. Failure to follow this instruction could result in personal injury or death.