Lincoln Aviator: Parking Aid - Vehicles With: Rear Parking Aid / Description and Operation - Parking Aid - Overview
Parking Aid Overview
Parking Aid - Audible
The available parking aid features depend on the vehicle trim level and options selected. The possible audio parking aid configurations are as follows:
Front and rear parking aid
Front and rear parking aid, plus active park assist and the side sensing system (also known as flank guard)
The rear parking aid system sounds a warning tone through the rear audio speakers to alert the driver of stationary objects near the rear bumper when the vehicle is in reverse. The rear parking aid system may not detect moving objects.
If equipped, the side sensing system (also known as flank guard) uses the front and rear side sensors to detect and map obstacles that are near the sides of the vehicle. The side sensing system provides a warning tone if an obstacle is detected on the right or left side of the vehicle while the vehicle moves slowly in forward or reverse.
The side sensing system is unavailable when the traction control system is deactivated. The side sensing system may not be available until the vehicle is driven approximately one vehicle length allowing the system to reinitialize after the following conditions:
Ignition switched on, off, and back on.
Vehicle is stationary for two minutes or more.
ABS is activated.
Traction control system is activated.
The parking aid system is disabled if a fault is detected in a parking aid system. This is indicated by a parking aid disabled warning message in the message center.
The parking aid system is enabled and disabled through the parking aid switch located in the center stack. The rear parking aid remains disabled for on ignition cycle.
When a MyKey® restricted key is in use, the parking aid system is enabled by default and cannot be disabled.
System Operation Parking Aid - Audible System Diagram - Without 360 Degree View Camera Item Description 1 PAM 2 LHR outer sensor 3 LHF outer sensor 4 LHF inner sensor 5 RHF inner sensor 6 RHR outer sensor 7 RHF outer sensor 8 RHR inner sensor 9 LHR inner sensor 10 Parking aid disable switch 11 PCM 12 ABS module 13 GWM 14 TRM 15 BCM 16 ACM 17 IPC 18 APIM 19 DSP 20 Rear door speakers 21 Front door speakers 22 with 14 or 28 speaker system System Diagram - With 360 Degree View Camera Item Description 1 PCM 2 IPMB 3 LHR outer sensor 4 ABS module 5 GWM 6 TRM 7 BCM 8 ACM 9 IPC 10 APIM 11 DSP 12 Rear door speakers 13 Front door speakers 14 LHF outer sensor 15 LHF inner sensor 16 RHF inner sensor 17 RHR outer sensor 18 RHF outer sensor 19 RHR inner sensor 20 LHR inner sensor 21 Right front active sensor 22 Left front active sensor 23 Right rear active sensor 24 Left rear active sensor 25 Parking aid disable switch 26 PAM 27 with 14 or 28 speaker system Network Message Chart PAM Network Input Messages Broadcast Message Originating Module Message Purpose Gear position PCM Enables or disables the front or rear parking aid depending on the gear lever position...
Other information:
Note: The system may not function if the remote control is close to metal objects or electronic devices, for example keys or a cell phone. Note: A valid remote control must be located inside your vehicle to switch the ignition on and start your vehicle...
INSTRUMENT PANEL Air vents. Direction indicator. Voice control. Audio control. Information display. Information display control. Wiper lever. Ignition switch. Information and Entertainment display. Camera button. Park aid button. Driver assistance button...
Categories
When the child safety locks are set, you cannot open the rear doors from the inside.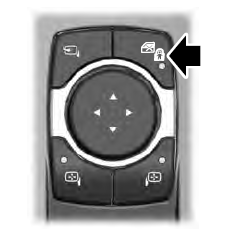 The child safety lock control is on the driver door.
Press the control to switch the child safety locks on. Press the control again to switch them off. A light on the child safety control illuminates when you switch them on.