Lincoln Aviator: Rear Drive Axle/Differential / Description and Operation - Rear Drive Axle and Differential
The 8.8-inch ring gear open rear differential axle has 3.31 gear ratio versions.
Rear Drive Axle and Differential
The rear axle assembly consists of the following:
Integral-type housing hypoid gear design (center of the pinion set below the centerline of the ring gear)
Hypoid differential ring gear and pinion consisting of a 8.8-inch ring gear and an overhung drive pinion that is supported by 2 opposed tapered roller bearings
Cast center section with a cast aluminium differential housing cover
Differential housing cover using silicone rubber based sealant as a gasket
Differential pinion shaft that is retained by a roll pin attached to the differential case
Differential case that is mounted in the rear axle housing between 2 opposing differential bearings that are retained in the rear axle housing by 2 removable bearing caps
Differential ring gear backlash which is adjusted by differential bearing shims that are located between the differential bearing cups and the rear axle housing
The rear drive axle receives rotational torque from the driveshaft. The direction of the rotation determines movement of the vehicle. The rotation enters the rear drive axle through the drive pinion, turning the drive pinion and rotating the ring gear. The ring gear is welded to the differential case. The differential case houses the pinion shaft upon which the differential pinion gears ride. The pinion gears are in mesh with the differential side gears to which the axle shafts are splined. It is the unique arrangement of the differential that allows the axle shafts to be driven at different speed when needed, such as when driving around corners.
This is an open differential. It has the normal internal spider gear design that will allow a speed differential between the rear wheels when cornering. The open differential has the ring gear integrated with differential carrier assembly.
Categories
WARNING: Do not adjust the steering wheel when your vehicle is moving.
Note: Make sure that you are sitting in the correct position.
Unlock the steering column. Adjust the steering wheel to the desired position.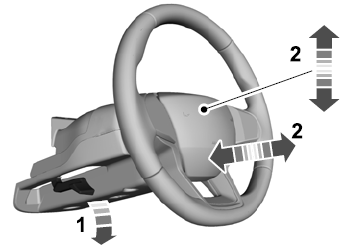 Lock the steering column.