Lincoln Aviator: Engine - 3.0L EcoBoost / General Procedures - Engine Oil Draining and Filling
Special Tool(s) / General Equipment
Draining
With the vehicle in NEUTRAL, position it on a hoist.
Refer to: Jacking and Lifting (100-02 Jacking and Lifting, Description and Operation).

NOTE: Use a shop towel when removing the oil filter housing to prevent oil from spilling on the engine or accessory components.

Loosen the oil filter housing and allow the oil to drain out of the housing and down into the engine.


Remove the oil filter housing and discard the oil filter element.


Remove and discard the O-ring seals.

Remove the fasteners and the underbody shield.

NOTE: The drain plug should be removed and installed by hand, do not use tools.

Turn the oil drain plug by hand counterclockwise 120 degrees.
Use the General Equipment: Oil Drain Equipment

Pull the oil drain plug out of the oil pan.


After the oil has drained, push the oil drain plug into the oil pan.


NOTICE: Overtightening will damage the oil drain plug and possibly the oil pan.

Turn the oil drain plug by hand clockwise 120 degrees.

Filling
Install the underbody shield and the fasteners.
Torque: 22 lb.in (2.5 Nm)
NOTE: If the filter housing stem is damaged or missing the oil will flow through the reservoir drain port and a loss of engine oil pressure will occur.

Inspect the oil filter housing and stem for damage including cracks or separation of the stem from the housing. If damaged, a new oil filter housing assembly must be installed.

Install a new oil filter element.


Install the oil filter housing.
Torque: 18 lb.ft (24 Nm)
Fill the engine with clean engine oil.
Refer to: Specifications (303-01A Engine - 3.0L EcoBoost, Specifications).

Categories
When the child safety locks are set, you cannot open the rear doors from the inside.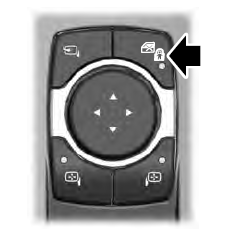 The child safety lock control is on the driver door.
Press the control to switch the child safety locks on. Press the control again to switch them off. A light on the child safety control illuminates when you switch them on.