Lincoln Aviator: Exterior Lighting / General Procedures - Front Fog Lamp Adjustment
Adjustment
NOTE: Horizontal aim is not adjustable. Consult your state vehicle inspection center for recommended tolerance ranges for visual aiming.

NOTE: Before starting fog lamp adjustment, entry conditions must be met.

Vehicle must be on level ground.


Tires must be correctly inflated.


Vehicle must be normally loaded.


Fog lamps and headlamps must be clean.


Headlamps must be operating and correctly aimed.

NOTE: The vertical wall screen must be a minimum of 10 ft ( 2.4 m) wide.

Park the vehicle on a level surface approximately 7.6 m (25 ft) from the vertical wall or screen directly in front of it.

The correct visual aim for the fog lamps is with the top edge of the high-intensity zone 101.6 mm (4 in) below the horizontal center of the fog lamps.

Categories
The intelligent access key must be within 3 ft (1 m) of the door or luggage compartment you intend to lock or unlock.
At a Door
Electronic door handles are on each door. Gently depress the switch inside the exterior door handle to unlock and open the door. An unlock symbol illuminates on the door window trim indicating your vehicle is unlocked.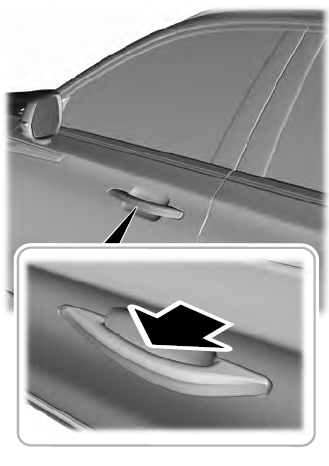 Copyright © 2023 www.liaviator2.com