Lincoln Aviator: Fuel System - General Information - 3.0L EcoBoost / General Procedures - Fuel Tank Draining
Special Tool(s) / General Equipment
292-00004
Fuel Tanker 100 GPM
Draining


WARNING: Before beginning any service procedure in this section, refer to Safety Warnings in section 100-00 General Information. Failure to follow this instruction may result in serious personal injury.

Refer to: Gasoline and Gasoline-Ethanol Fuel Systems Health and Safety Precautions (100-00 General Information, Description and Operation).

With the vehicle in NEUTRAL, position it on a hoist.
Refer to: Jacking and Lifting (100-02 Jacking and Lifting, Description and Operation).

Disconnect the battery ground cable.
Refer to: Battery Disconnect and Connect (414-01 Battery, Mounting and Cables, General Procedures).





NOTICE: Only use the specified general equipment.

NOTE: Be prepared to collect escaping fulid

Loosen the clamp and disconnect the hose. Position the hose aside.
Torque: 28 lb.in (3.2 Nm)
NOTICE: Use suitable paper to absorb any escaping fluid.

NOTE: Some residual fuel may remain in the fuel tank filler pipe. Carefully drain into a suitable container.

Insert the hose from the fuel storage tanker and siphon the fuel through the hose.
Use Special Service Tool: 292-00004 Fuel Tanker 100 GPM.
Categories
WARNING: Do not adjust the steering wheel when your vehicle is moving.
Note: Make sure that you are sitting in the correct position.
Unlock the steering column. Adjust the steering wheel to the desired position.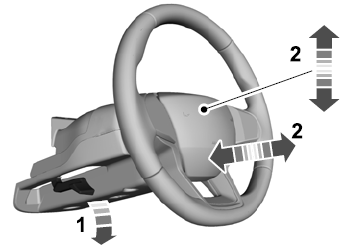 Lock the steering column.