Lincoln Aviator: Fuel System - General Information / Fuel System - General Information - 3.0L EcoBoost
3.0L EcoBoost Item Specification Fuel Pressure 58.0 –75.4 psi ( 400 –520 kPa) Fuel Tank Capacity 20...
Other information:
Removal NOTE: The maximum articulation of the flex coupling is 4 degrees. The maximum articulation of any U-joint is 25 degrees. The maximum articulation of the center CV-joint is 20 degrees. The maximum articulation of the rear axle CV-joint is 15 degrees...
System Diagram Item Description 1 Current Sensor 2 Contactor Sense Leads 3 BECM 4 Precharge Contactor Coil 5 Positive Contactor Coil 6 Negative Contactor Coil 7 High Voltage Battery Junction Box 8 Temperature Sensors 9 Cell Voltage Sense Leads 10 PCM 11 Battery Cell Arrays 12 GWM 13 RCM 14 DCDC 15 12 Volt Battery Monitoring Sensor 16 TCU (if equipped) 17 Ignition Switch 18 Main 12 Volt Battery 19 HVAC 20 Service Disconnect 21 High Voltage Battery Coolant Diverter Valve 22 Motor Electronics Coolant Pump 23 Isolation Switch (BIB) 24 Auxiliary 12 Volt Battery 25 Coolant Temperature Sensor 26 High Voltage Battery 27 BCM 28 High Voltage Battery Coolant Pump 29 BCMC 30 SOBDMC 31 High Voltage Interlock Loop (HVIL) 32 Auxillary Contactor Coil 33 SOBDM also known as the Battery Charger Control Module (BCCM) System Operation Network Message Chart - Battery Energy Control Module (BECM) Broadcast Message Originating Module Message Purpose 12 volt battery voltage BCM Battery voltage measured with battery sensor...
Categories
When the child safety locks are set, you cannot open the rear doors from the inside.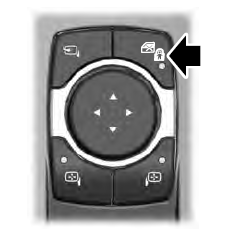 The child safety lock control is on the driver door.
Press the control to switch the child safety locks on. Press the control again to switch them off. A light on the child safety control illuminates when you switch them on.