Lincoln Aviator: Automatic Transmission External Controls - 10-Speed Automatic Transmission – 10R60 / General Procedures - Stay in Neutral
Activation
NOTE: If the vehicle has a discharged battery, an external power source is required. If the battery discharges while in Stay in Neutral Mode, the park lock pawl solenoid will release and the transmission will return to Park. Do not tow the vehicle in this mode.

Apply the parking brake.

Press N on the GSM and press N again within 5 seconds to enter Stay in Neutral Mode. N on the GSM will slowly blink and a message will appear on the IPC.

To exit Stay in Neutral Mode, press the brake pedal and shift to P, or if the engine is running press the brake pedal and shift to any other gear.

Categories
The intelligent access key must be within 3 ft (1 m) of the door or luggage compartment you intend to lock or unlock.
At a Door
Electronic door handles are on each door. Gently depress the switch inside the exterior door handle to unlock and open the door. An unlock symbol illuminates on the door window trim indicating your vehicle is unlocked.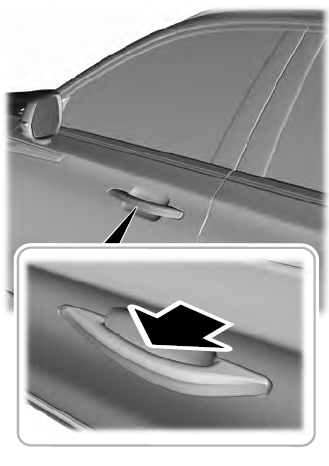 Copyright © 2023 www.liaviator2.com