Lincoln Aviator: Tire Care / Information on T Type Tires
T145/80D16 is an example of a tire size.
Note: The temporary tire size for your vehicle may be different from this example. Tire Quality Grades do not apply to this type of tire.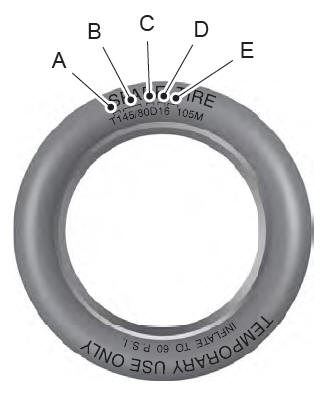 T type tires have some additional information beyond those of P type tires; these differences are described below:
T: Indicates a type of tire, designated by the Tire and Rim Association, that is intended for temporary service on cars, sport utility vehicles, minivans and light trucks.
145: Indicates the nominal width of the tire in millimeters from sidewall edge to sidewall edge. In general, the larger the number, the wider the tire.
80: Indicates the aspect ratio which gives the tire's ratio of height to width. Numbers of 70 or lower indicate a short sidewall.
D: Indicates a diagonal type tire.

R: Indicates a radial type tire.

16: Indicates the wheel or rim diameter in inches. If you change your wheel size, you will have to purchase new tires to match the new wheel diameter.
Categories
WARNING: Do not adjust the steering wheel when your vehicle is moving.
Note: Make sure that you are sitting in the correct position.
Unlock the steering column. Adjust the steering wheel to the desired position.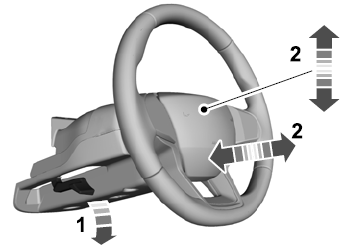 Lock the steering column.