Lincoln Aviator: Battery, Mounting and Cables / Specifications
Battery Specifications
Base and Reserve without trailer tow vehicles
Item
Specification
Voltage
12 Volts
Cold Cranking Amps (CCA) measured at -18 C (-0.4 F)
800 Cold Cranking Amps (CCA)
Battery amps rating
80 Ah
Battery size
H7
Battery type
Absorbed Glass Mat (AGM)
All other vehicles
Item
Specification
Voltage
12 Volts
Cold Cranking Amps (CCA) measured at -18 C (-0.4 F)
850 Cold Cranking Amps (CCA)
Battery amps rating
92 Ah
Battery size
H8
Battery type
Absorbed Glass Mat (AGM)
Auxiliary Battery - Hybrid Vehicles
Item
Specification
Voltage
12 Volts
Cold Cranking Amps (CCA) measured at -18 C (-0.4 F)
90 Cold Cranking Amps (CCA)
Battery amps rating
7.5 Ah
Battery size
AUX1-A
Battery type
Absorbed Glass Mat (AGM)
Other information:
Autolamps WARNING: The system does not relieve you of your responsibility to drive with due care and attention. You may need to override the system if it does not turn the headlamps on in low visibility conditions, for example daytime fog. Autolamps turn the headlamps on in low light situations or when the wipers operate...
System Operation System Diagram - DCDC Item Description 1 Ignition Switch 2 PCM 3 SOBDMC 4 BCM 5 BECM 6 DCDC 7 High Voltage/Low Current Fuse 8 12V Battery Monitoring Sensor Network Message Chart DCDC Network Input Messages Broadcast Message Originating Module Message Purpose DCDC HEV wake up enable BECM, BCCM (battery charger control module) ( PHEV only) Command to enable the DCDC DCDC HEV wake up enable SOBDMC Hard wired command to enable the DCDC High voltage input SOBDMC Voltage measured at SOBDMC used to compare with voltage at the DCDC...
Categories
Passive Key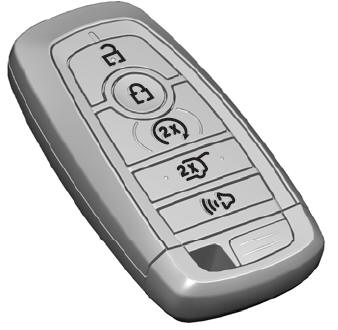 The passive key operates the power locks and the remote start system. The passive key must be in your vehicle to use the push button start.
Note: You may not be able to shift out of park (P) unless the passive key is inside your vehicle.