Lincoln Aviator: Engine Emission Control - 3.0L EcoBoost / Description and Operation - Engine Emission Control - Component Location
3.0L EcoBoost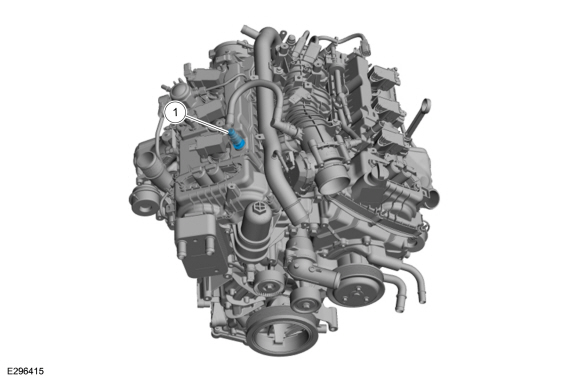 | Item | Description |
| --- | --- |
| 1 | PCV valve. |
System Operation Positive Crankcase Ventilation (PCV) System The PCV system circulates crankcase gases through the intake air system into the engine where they are burned...
Other information:
Principles of Operation Inspection and Verification Verify the customer concern. Visually inspect for obvious signs of mechanical or electrical damage. If an obvious cause for an observed or reported concern is found, correct the cause (if possible) before proceeding to the next step...
System Operation Parking Aid - Audible System Diagram - Without 360 Degree View Camera Item Description 1 PAM 2 LHR outer sensor 3 LHF outer sensor 4 LHF inner sensor 5 RHF inner sensor 6 RHR outer sensor 7 RHF outer sensor 8 RHR inner sensor 9 LHR inner sensor 10 Parking aid disable switch 11 PCM 12 ABS module 13 GWM 14 TRM 15 BCM 16 ACM 17 IPC 18 APIM 19 DSP 20 Rear door speakers 21 Front door speakers 22 with 14 or 28 speaker system System Diagram - With 360 Degree View Camera Item Description 1 PCM 2 IPMB 3 LHR outer sensor 4 ABS module 5 GWM 6 TRM 7 BCM 8 ACM 9 IPC 10 APIM 11 DSP 12 Rear door speakers 13 Front door speakers 14 LHF outer sensor 15 LHF inner sensor 16 RHF inner sensor 17 RHR outer sensor 18 RHF outer sensor 19 RHR inner sensor 20 LHR inner sensor 21 Right front active sensor 22 Left front active sensor 23 Right rear active sensor 24 Left rear active sensor 25 Parking aid disable switch 26 PAM 27 with 14 or 28 speaker system Network Message Chart PAM Network Input Messages Broadcast Message Originating Module Message Purpose Gear position PCM Enables or disables the front or rear parking aid depending on the gear lever position...
Categories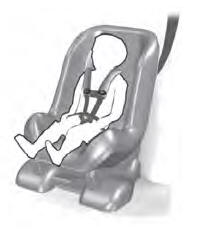 Use a child restraint (sometimes called an infant carrier, convertible seat, or toddler seat) for infants, toddlers and children weighing 40 lb (18 kg) or less (generally four-years-old or younger).
Using Lap and Shoulder Belts
WARNING: Do not place a rearward facing child restraint in front of an active airbag. Failure to follow this instruction could result in personal injury or death.