Lincoln Aviator: Driveshaft / Removal and Installation - Front Driveshaft Slip Yoke Boot
Special Tool(s) / General Equipment
Removal
Remove the transfer case.

Remove and discard the boot clamp.


Remove and discard the front driveshaft boot.

Installation
NOTE: Make sure that the mating faces are clean and free of foreign material.

Clean the driveshaft splines and the boot mating surface.

NOTE: Make sure that new components are installed.

Install a new clamp on to new boot.

Push on new boot and clamp onto the spline stud yoke shaft.


Ensure that push the boot until the clamp reaches the boot groove.

Secure the clamp with crimping tool.
Use the General Equipment: Crimping Tool
Install the transfer case.

Categories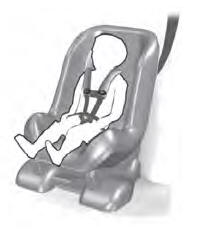 Use a child restraint (sometimes called an infant carrier, convertible seat, or toddler seat) for infants, toddlers and children weighing 40 lb (18 kg) or less (generally four-years-old or younger).
Using Lap and Shoulder Belts
WARNING: Do not place a rearward facing child restraint in front of an active airbag. Failure to follow this instruction could result in personal injury or death.