Lincoln Aviator: Supplemental Restraint System / Description and Operation - Airbag and Seatbelt Pretensioner Supplemental Restraint System (SRS) - Component Location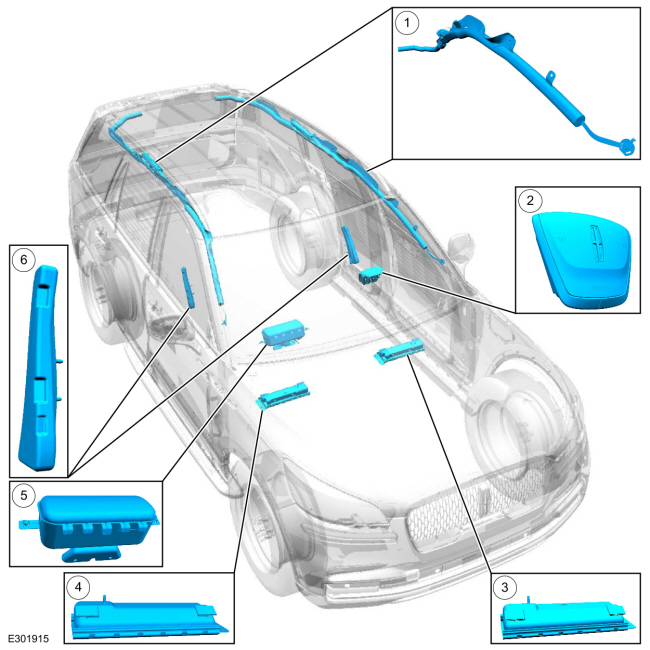 | Item | Description |
| --- | --- |
| 1 | Driver and passenger side curtain airbag |
| 2 | Driver airbag |
| 3 | Driver knee airbag |
| 4 | Passenger knee airbag |
| 5 | Passenger airbag and (if equipped) canister vent |
| 6 | Driver and passenger side airbag |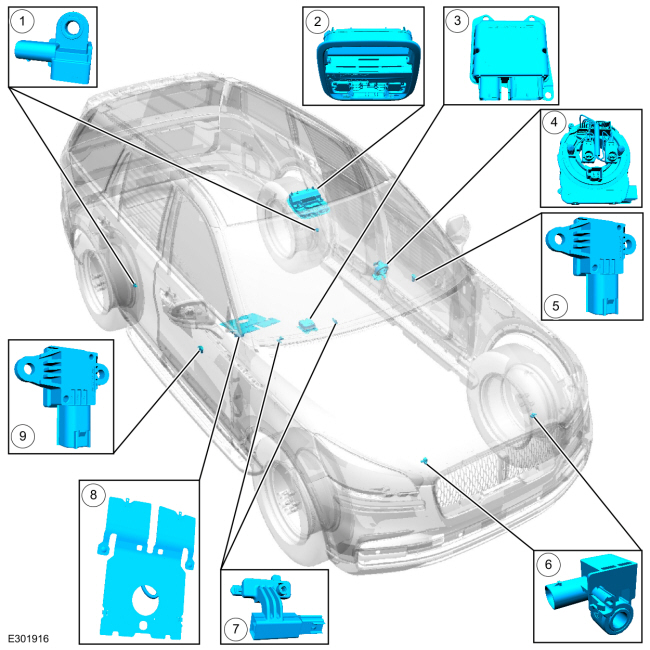 | Item | Description |
| --- | --- |
| 1 | Driver and passenger C-pillar side impact sensors |
| 2 | Overhead console (includes PAD indicator) |
| 3 | RCM |
| 4 | Clockspring |
| 5 | Driver front door side impact sensor |
| 6 | Driver and passenger front impact severity sensors |
| 7 | Seat position sensors |
| 8 | OCSM (includes OCS sensor and gel-filled bladder) |
| 9 | Passenger front door side impact sensor |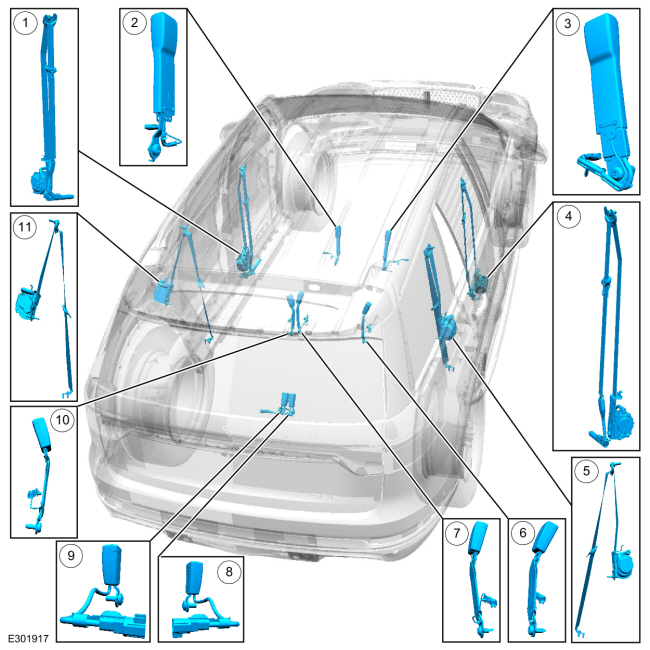 | Item | Description |
| --- | --- |
| 1 | Driver seatbelt retractor (includes retractor pretensioner) |
| 2 | Driver seatbelt buckle (includes buckle sensor) |
| 3 | Front passenger seatbelt buckle (includes buckle sensor and Belt Tension Sensor (BTS)) |
| 4 | Front passenger seatbelt retractor (includes retractor pretensioner, retractor load limiter and anchor pretensioner) |
| 5 | Second row passenger side outer seatbelt retractor (includes retractor pretensioner) |
| 6 | Second row passenger side outer seatbelt buckle (includes seatbelt buckle switch) |
| 7 | Second row center seatbelt buckle (if equipped) (includes seatbelt buckle switch) |
| 8 | Third row passenger side seatbelt buckle (includes seatbelt buckle switch) |
| 9 | Third row driver side seatbelt buckle (includes seatbelt buckle switch) |
| 10 | Second row driver side outer seatbelt buckle (includes seatbelt buckle switch) |
| 11 | Second row driver side outer seatbelt retractor (includes retractor pretensioner) |
Overview The RCM continually receives and monitors inputs from the OCSM and various other hard-wired switches and sensors. If the RCM detects a sudden vehicle deceleration and/or lateral deceleration based on the information received from the various sensors and determines that deployment is necessary, it applies voltage and current to deploy the appropriate SRS components...
Other information:
Symptom Chart(s) Diagnostics in this manual assume a certain skill level and knowledge of Ford-specific diagnostic practices. REFER to: Diagnostic Methods (100-00 General Information, Description and Operation). Dust and Water Leaks Most dust and water leaks occur due to missing or incorrectly installed body sealer or components...
One-Way Clutch (OWC) Exploded View Item Description 1 Front support assembly 2 One-Way Clutch (OWC) 3 Sun gear No. 1 4 Sun gear No. 2 One-Way Clutch (OWC) Mechanical Operation The One-Way Clutch (OWC) is a brake clutch that holds the sun gears No...
Categories
WARNING: Do not adjust the steering wheel when your vehicle is moving.
Note: Make sure that you are sitting in the correct position.
Unlock the steering column. Adjust the steering wheel to the desired position.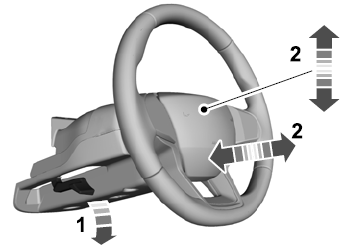 Lock the steering column.