Lincoln Aviator: Parking Aid - Vehicles With: Parking Aid Camera / General Procedures - Parking Aid Camera Initialization
Using a scan tool select the controlling module for the parking aid camera(s).

Carry out the LIN new module initialization.

Follow the on-screen instructions.

Check the vehicle for the active guidelines option. Refer to description and operation in the appropriate vehicle section.

If equipped with active guidelines, drive the vehicle on a flat, smooth road at 32 km/h (20 mph) or more, with hands placed loosely on the steering wheel and minimal steering correction for approximately 30 seconds.


NOTE: When the battery has been disconnected or discharged the active guidelines may be inoperative until the following step is carried out.
Categories
The intelligent access key must be within 3 ft (1 m) of the door or luggage compartment you intend to lock or unlock.
At a Door
Electronic door handles are on each door. Gently depress the switch inside the exterior door handle to unlock and open the door. An unlock symbol illuminates on the door window trim indicating your vehicle is unlocked.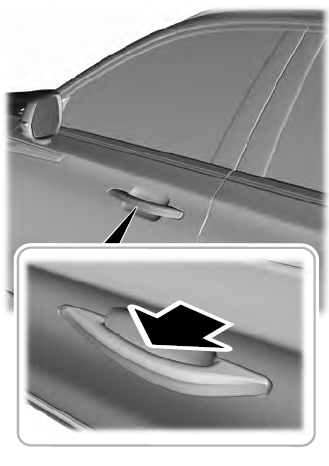 Copyright © 2023 www.liaviator2.com