Lincoln Aviator: Suspension / Suspension System - General Information
General Specifications NOTE: Measurements listed at curb load. Curb load is defined as "full service fluids, full fuel tank(s), no passengers and no cargo"...
Other information:
Line Pressure Test This test verifies the line pressure is within specification. If available, refer to the Transmission Line Pressure Test general procedure to access the line pressure tap.REFER to: Transmission Line Pressure Test (307-01A Automatic Transmission - 10-Speed Automatic Transmission – 10R60, General Procedures)...
Deactivation NOTE: During vehicle build, some modules, such as the IPC and BCM module are set in factory mode. Factory mode reduces the drain on the battery during longer periods where the vehicle is not used. While in the factory mode, various systems may be altered or disabled and the IPC displays FACTORY MODE CONTACT DEALER in the message center...
Categories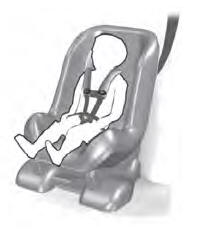 Use a child restraint (sometimes called an infant carrier, convertible seat, or toddler seat) for infants, toddlers and children weighing 40 lb (18 kg) or less (generally four-years-old or younger).
Using Lap and Shoulder Belts
WARNING: Do not place a rearward facing child restraint in front of an active airbag. Failure to follow this instruction could result in personal injury or death.