Lincoln Aviator: Suspension / Suspension System - General Information
General Specifications NOTE: Measurements listed at curb load. Curb load is defined as "full service fluids, full fuel tank(s), no passengers and no cargo"...
Other information:
Special Tool(s) / General Equipment Air Conditioning Service Unit Refrigerant Identification Equipment Recovery NOTICE: Use an A/C refrigerant analyzer before recovering any of the vehicle's A/C refrigerant. Failure to do so puts the shop's bulk refrigerant at risk of contamination...
Argentina Brazil Djibouti Ghana Indonesia Jamaica Malaysia RALM/61A/0318/S(18-0852) Mauritania Moldova Morocco Pakistan Paraguay Serbia Singapore South Africa South Korea R-CMM-DLH-L2C0065TR Syria Taiwan, China Ukraine United Arab Emirates United States and Canada WARNING: Changes or modifications not expressively approved by the party responsible for compliance could void the user's authority to operate the equipment...
Categories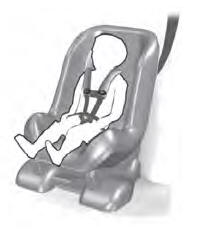 Use a child restraint (sometimes called an infant carrier, convertible seat, or toddler seat) for infants, toddlers and children weighing 40 lb (18 kg) or less (generally four-years-old or younger).
Using Lap and Shoulder Belts
WARNING: Do not place a rearward facing child restraint in front of an active airbag. Failure to follow this instruction could result in personal injury or death.