Lincoln Aviator: Engine / Engine System - General Information
Engine Information NOTE: When repairing engines, all parts must be contamination free. If contamination/foreign material is present when repairing an engine, premature engine failure may occur...
Other information:
System Operation System Diagram - Supplemental Restraint System (SRS) Item Description 1 RCM 2 Ignition Switch 3 GWM 4 Driver Seatbelt Buckle Switch 5 Passenger Seatbelt Buckle Switch 6 RHFront Impact Severity Sensor 7 Driver Door Side Impact Sensor 8 Driver C-Pillar Side Impact Sensor 9 Passenger Belt Tension Sensor (BTS) 10 Passenger Seat Position Sensor 11 Driver Seat Position Sensor 12 APIM 13 Passenger Door Side Impact Sensor 14 BCM 15 Driver Second Row Seatbelt Buckle Switch 16 Passenger Second Row Seatbelt Buckle Switch 17 LH Front Impact Severity Sensor 18 OCSM 19 Center Second Row Seatbelt Buckle Switch 20 Passenger C-Pillar Side Impact Sensor 21 Driver Third Row Seatbelt Buckle Switch 22 Passenger Third Row Seatbelt Buckle Switch 23 IPC Item Description 1 Passenger Seatbelt Anchor Pretensioner 2 Driver Seatbelt Anchor Pretensioner 3 Driver Seatbelt Retractor Pretensioner 4 Passenger Side Curtain Airbag 5 Driver Side Curtain Airbag 6 Passenger Side Airbag 7 Driver Side Airbag 8 Passenger Airbag (Stages 1 and 2) 9 Driver Airbag (Stages 1 and 2) 10 RCM 11 BCM 12 Passenger Seatbelt Adaptive Load Limiter 13 Passenger Seatbelt Retractor Pretensioner 14 Passenger Load Limiting Retractor 15 Passenger Airbag Vent (if equipped) 16 Passenger Knee Airbag 17 Driver Knee Airbag 18 Driver Second Row Seatbelt Retractor 19 Passenger Second Row Seatbelt Retractor Network Message Chart - Supplemental Restraint System (SRS) Module Network Input Messages - RCM Broadcast Message Originating Module Message Purpose eCall confirmation APIM Used for SYNC® 911 Assist™ operation...
Overview Headlamps - Low Series The low series LED headlamp system consists of 3 low beam (outer) and 2 high beam (inner) non-replaceable Light Emitting Diodes (LEDs). The LED DRL/front parking lamps are integrated into the headlamp assembly and are not individually replaceable...
Categories
WARNING: Do not adjust the steering wheel when your vehicle is moving.
Note: Make sure that you are sitting in the correct position.
Unlock the steering column. Adjust the steering wheel to the desired position.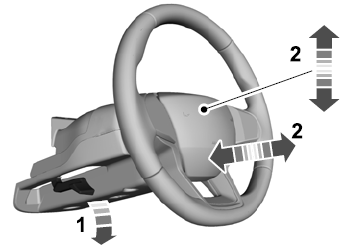 Lock the steering column.